Recovery

Experts



When you choose to send your media to us, you can rest assure that we will keep your files 100% confidential and do our best to minimise any downtime to your business or personal IT infrastructure. We are a Professional Data Recovery business that aim to provide a service of great importance at affordable rates for our clients. We are based in the northern suburbs of Melbourne, but also offer on-site services where applicable, local pick up and delivery of media can also be arranged. We also now offer priority services for very urgent cases.. note fees apply.
Data Recovery Melbourne
Data loss can occur in many ways, but it can be split up into two main categories, logical failure & physical hardware failure. Examples of logical failure would be the dreaded windows blue screen a.k.a blue screen of death and file system corruption. These are two very common failures and usually have a very high recovery success rate. Mechanical drive failure examples are firmware failure and head assembily crash & spindle motor failure. Recovery in these circumstances is more complex and most times is preformed in a class100 Laminar Flow lab. Success rates are still high but the recovery process is very specialized and exact matching parts may need to be ordered in, so extra time is required to complete your case.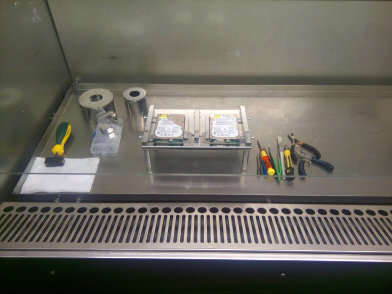 Hard Drive

Data Loss
Our technician will evaluate the case you submitted (devices) and determine the means of recovery. From here the recovery process type will be outlined in a evaluation document or quotation for your approval to proceed with your case.
-------------------------------------
There are two main categories of data failures
logical and physical disk failures
Logical failures type examples are file-system corruption, reformatting and deleting. This recovery involves scanning your media with Low level drive recovery software to extract the lost, corrupted or deleted data.
Physical failures can be either electronic or mechanical damage. Examples of this are PCB failure, read write head failure, bad sectors and firmware failure. This recovery involves donor drive parts or firmware and replacing parts if needed to temporarily fix the media so that an image of your data can be extracted. Then we scan your media with Low level drive recovery software to extract the valid data required for your case.